Arnagar S8

Robot Vacuum Cleaner

LDS SLAM

35

00Pa 5200mAh

Google Assistant Alexa APP Control
Smart breakpoint
To continue cleaning. Once charged, it will automatically return to the breakpoint and start cleaning, so you can be sure no one is home.



30 sensors full coverage Fully perceive the surroundings
This vacuum cleaner can detect the environment and take appropriate action thanks to the sensors covered on the surface. The internal sensors also help him to recognize changes in the internal structure. It's smart enough to complete the entire cleaning process


8th generation LDS Super-Sensing Lidar Precise scanning and mapping
The highly sensitive 8th generation LDS lidar from Arnagar can quickly scan the whole house and automatically draw maps using the SLAM algorithm, with 40% more accuracy than the previous generation.


Multiple card memory
With the multi-storey card storage, you can use your robot on multiple floors.


Automatically assess the height Will not get stuck under the bed
Accurately identify common obstacles, take the initiative to avoid problems. The automatic detection of artificial intelligence allows you to merge, divide and name the partitions in order to achieve cleaning in a preset arder or scheduled cleaning of the intended space.




APP control, Alexa / Google Smart Voice Control
It can be remotely controlled via APP and scheduled for cleaning even when people are not at home. The intelligent voice control from Alexa / Google, just say the voice command, can process and listen to your instructions immediately.

Customizable and scheduled cleaning
You can use the app to adjust the suction power, amount of water, cleaning frequency, cleaning time and repetition date for different rooms. Realize fully automatic and precise cleaning. Suitable for forgetful, busy and lazy people

Cleaning the designated area
Targeted room cleaning, fixed point cleaning and surface cleaning. Eliminate trash in a specific area accurately. Save time and improve efficiency. Suitable for highly efficient people

Virtual wall and no-go zone
Use virtual walls to separate rooms that don't need cleaning or set prohibited areas to avoid sensitive places like baby rooms, delicate storage areas or carpets

550ml 2-in-1 Electric control water tank
3 levels of suction setting, 3 levels of setting the water volume, the suction and water performance can be adjusted depending on the soil material and the amount of waste. 20 mm obstacle crossing, 15 ° climbing, adaptation to complex cleaning environments


Y-shaped Mopping
Wipe with an effective Y-shaped cleaning path that allows a triple wipe action and removes all dirt and grime.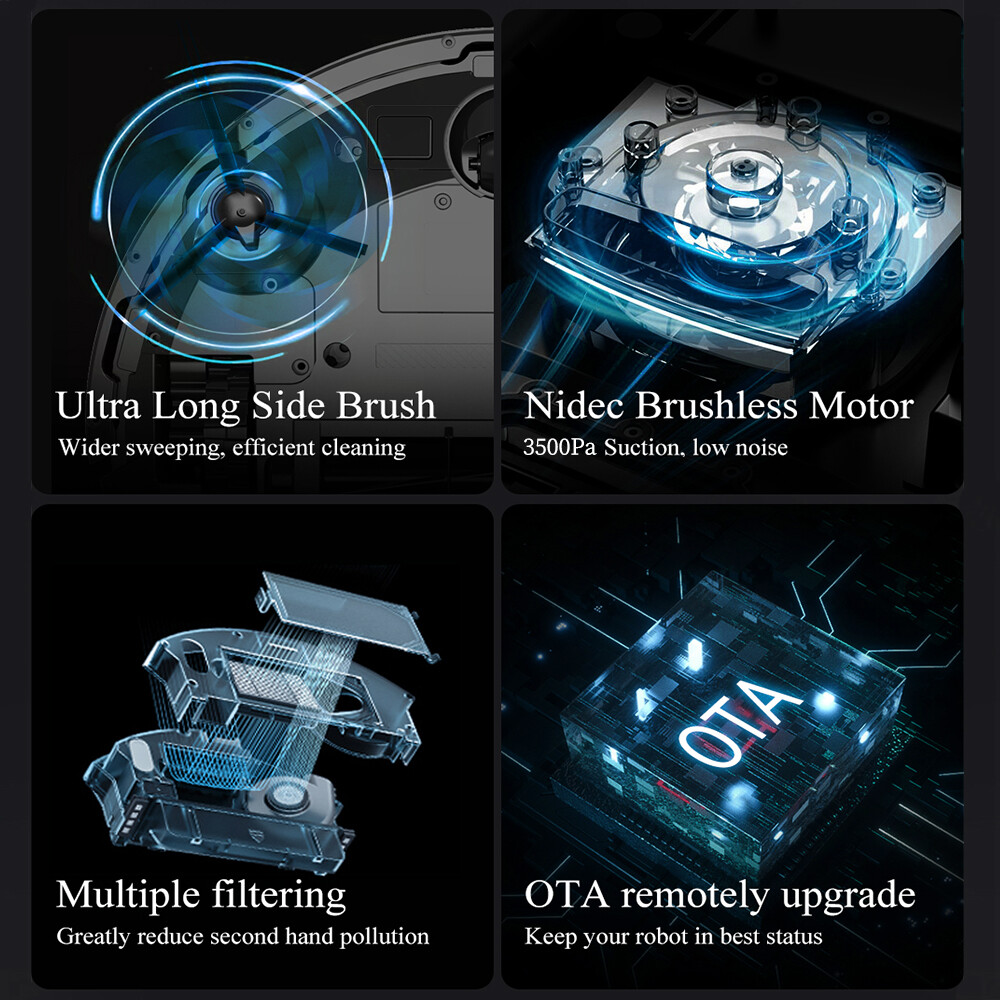 | | |
| --- | --- |
| Brand | Arnagar |
| Model | S8 |
| Cleaning mode | Vacuum, mop and broom in one device |
| Cleaning by area | √ |
| Automatic area segmentation | √ |
| Cleaning as directed | √ |
| App Control | √ |
| Virtual exclusion zones | APP virtual restricted areas |
| Smart connectivity | Smart connected with each other: Google Assistent/Alexa/ Arnagar APP |
| Product size | 350 × 350 × 98 mm (Robot) |
| Suction performance | Max. 3500Pa |
| Dust box type: | 2-in-1 box |
| Battery | 5200mAh |
| Recommended area | ≤250m2 |
| Navigation Mode | LDS SLAM |
| Motor type | Japan Nidec brushless motor |
| Certification | FCC CE Rohs GS EAC CCC SRRC |
| Incline for climbing | ≤20mm |
| Smart Link | Google Assistent / Alexa / Arnagar APP |
| Cleaning method | Sweeping, vacuuming and mopping |
| Wiping area | 150 square meters |
| LED Screen | √ |
| Voltage | 110-240V |
| Warranty | 2 Year |
| Loading time | 4 h |
| Product line | laser Roboter |
| Running time | 110-270 Mins |
| Connection type | Cordless |
| | |
| Robot vacuum cleaner performance | 50W |
| Weight of the product | 3.5kg |
| Product Type | Robot vacuum cleaner |
| Color | Black |
| Smart home communication protocol | WLAN |
| 2-in-1 Water tank | 300ml + 250ml |
| | |
Accessories included


1 * Robot vacuum cleaner
1 * Charger Dock
1 * US Adapter
2 * Mopping cloth
1 * Wiper mount
2 * Side Brush
1* Cleaning Tool
1* Filter
10*Disposable Mops
1 * User manual(English/Deutschland/Français/Italiano/Español)